The MR MIKES SteakhouseCasual of today was created by a group of senior restaurant industry specialists with over 100 years of combined experience with the goal of building national restaurants through long standing and profitable franchisees that are well supported by leading processes and practices at the franchisor level.
We are a thriving network of partners, franchisees, employees, brands, and suppliers that share a rich history in the food service industry. Our uncompromising commitments to bring signature menu items prepared from premium ingredients; to focused selection and guidance of franchisees; and to provide the "best-in-class" guest experience to our patrons will establish MR MIKES and you – our Franchise partners – as the most successful food industry company in Canada.
MR MIKES SteakhouseCasual has attained iconic status in Western Canada with over 60 years of longevity. The past and future success of this brand is driven by our product quality standards, a mid-scale price point, our customer service experiences, and a contemporary, yet casual atmosphere.
"The growing success is built on the strength and commitment of the partnership between the franchisees and the franchisor team."
With an established track record of successful restaurant leadership and operational guidance, comprehensive training programs, and our branded advertising and marketing expertise we are confident that together we have what it takes to elevate your success.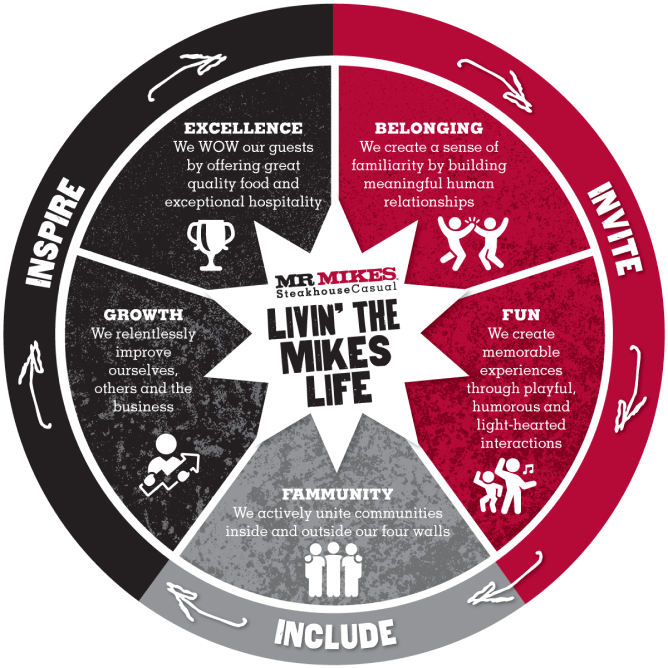 > Learn more about our values, Culture and Livin' the Mikes Life.